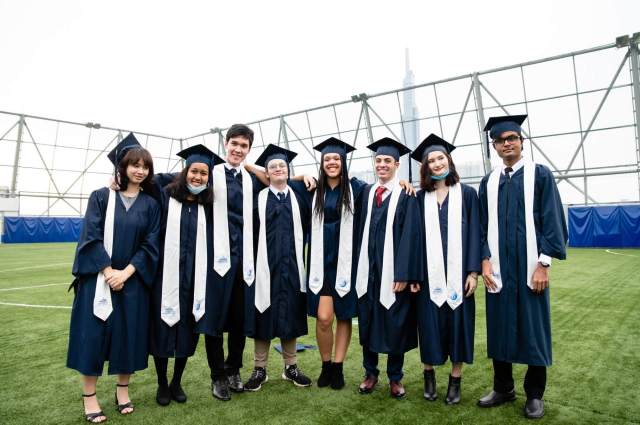 At International School Ho Chi Minh City, we are proud to offer the International Baccalaureate in Vietnam curriculum. With the aim of creating internationally-minded and well-rounded individuals the IB programmes align perfectly with our Mission, Vision and Values. 
As the first IB World School in Vietnam, we offer the full suite of IB Programmes – preparing students aged 3-19 years old for success after ISHCMC. Students in ISHCMC are able to study the IB Primary Years Programme (IB PYP) – ages 3-12, the IB Middle Years Programme (IB MYP) – ages 11-16, and the IB Diploma Programme (IB DP) – ages 16-19. 
Designed in Geneva in 1968, the International Baccalaureate (IB) is an academically challenging program of study, designed to prepare students for success at university and life beyond. Its purpose is to give students around the world a chance to earn a rigorous, internationally recognized diploma, which can be used for entry into top universities around the world. 
At the core of the International Baccalaureate is the idea that IB learners are "positively challenged to think critically and to learn in a flexible environment crossing disciplinary, cultural and national boundaries (IBO, 2022). Through the IB Learner Profile (see our blog post here), students studying the IB form lifelong skills that form the basis of their success in the years that follow their education. 
So why does the IB prepare students for life after high school? 
University faculties regularly note IB students' passion for discovery.
IB students are extraordinarily well prepared for the academic requirements of university coursework.
IB students contribute to discussions in a meaningful way. They do not shy away from challenging questions and, once they know the answer, follow up by asking "why?"
IB students regularly deliver stimulating presentations and drive excellence in group assignments.
IB students are infused with the academic integrity that is a fundamental value of universities and colleges.
IB students have a deep understanding of various cultures and views, bringing an appreciation of new views to both their academic study and their involvement in local and wider communities. Their international mindedness complements the missions of the best tertiary institutions.
IB students tell us they bring this commitment to community and others to their activities and leadership roles at university and carry it throughout their lives.
IB students transition well to challenging university settings and show resilience and determination in their work. In academics, they have the confidence to approach new or unfamiliar subjects or material.
IB students are active participants in a wide range of aspects of campus life, as well as focusing on their academic development.
IB students have developed an ability to reflect on their learning and to articulate how they learnt. They have learned that critical reflection is an important academic and life skill.
Want to know how the IB differs from other national curriculums?
Read this useful post on the IB website. 
Looking for more information? Inquire today or contact one of our admissions officers to get answers to all your questions. 
See more:
Top best international school in HCMC, Vietnam

Top international school in District 7 HCMC

Top international middle schools in Vietnam with high-quality education