On April 22nd, ISHCMC students and parents, together with the local community, were excited to be part of the World Earth Day Clean Up to help refreshing the environment hosted by Re-Think Plastic Vietnam and ISHCMC Eco-Schools CAS Group. 
World Earth Day Clean Up
As a community-led organization working to raise awareness about plastic pollution in Vietnam, Re-Think Plastic Vietnam usually hosts many activities to respond to their vision. This community clean up event for a fresher environment is just one part of a series.
Always caring about the environment, both ISHCMC as well as the local community, were  pleased and energetic to join in the Clean Day. Over 100 participants took part in the event. They helped cleaning up over 150 full bags of plastic from the environment. 
When asked about the purpose of the event, Ms. Karen Smit from Re:Think Vietnam shared:
The impact we aim for is awareness.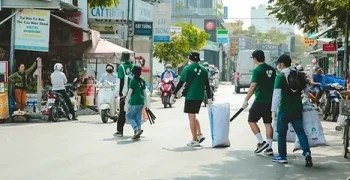 She believes that people do not realize the alarming numbers of rubbish and plastic that are disposed of every day until they start cleaning up the streets. Therefore, by starting to clean up the surrounding area, our community can start making a tangible impact on the environment.
Ms. Karen is also confident with the ability to create even more positive impacts on the environment of ISHCMC students.
She suggests that the students should equip themselves with a sense of knowledge about collected trash, as well as coming up with innovative solutions for the collected plastic, so that it doesn't end up in the environment again.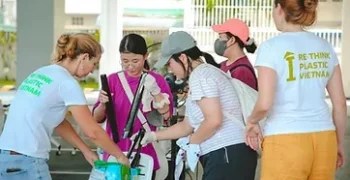 Once again, ISHCMC is so happy to have had a chance to work with Re:Think Plastic Vietnam to host such a meaningful and influential event that has such a positive impact on our surrounding environment. Please be sure to look out for the RPV Plastic Awareness Month in September, in which ISHCMC will be taking part!