What an amazing year for International School Ho Chi Minh City's class of 2022. Through adversity and two years of sheer resilience every IB Diploma student has flourished in their own way. The highlights of 2022 IB results are:
As one of the leading international schools in Vietnam, ISHCMC has a rich 28 year history of student achievement. The class of 2022 was no exception, with one student, Seoyeon Hong, achieving a perfect score of 45 points in the IB Diploma.
Mike Hebert, ISHCMC Director of Admissions & Market Growth, said
"the result puts her in the 99.7th percentile amongst students studying the IB Diploma Programme globally. That is a true testament to the education students at ISHCMC are receiving and one that the whole community is proud of".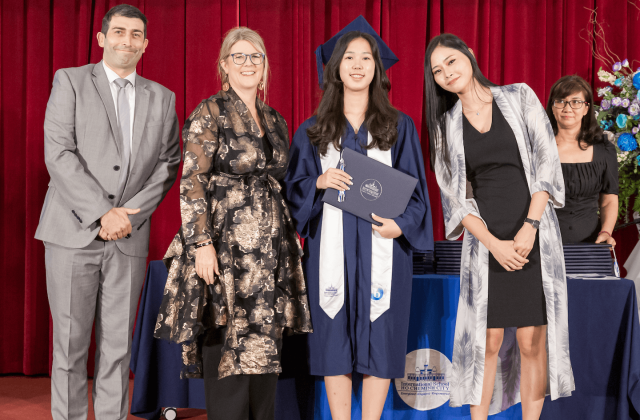 Another student that has flourished under ISHCMC's educational environment is Junsoo Chung. Junsoo Chung joined ISHCMC in grade 2. Junsoo recounts "I arrived at school with no English language. On my first day, a classmate shared with me a copy of Star Wars – that book helped me kickstart my English skills". Junsoo is one of many recent graduates from ISHCMC's class of '22 and is a shining example of the ISHCMC learner. As the president of the ISHCMC Entrepreneur Society, he has networked with people from different backgrounds and engaged with diverse perspectives. Scoring a 7 (the highest grade possible) in Biology, Mathematics Analysis & Approaches, and Business Management Junsoo hopes to take what he has learned at ISHCMC and apply it to his further education where he will be attending Boston College. His ultimate goal is, "to work with an NGO and institutionalize climate education in South East Asia. "I want to make sure every school has a climate curriculum", he explains.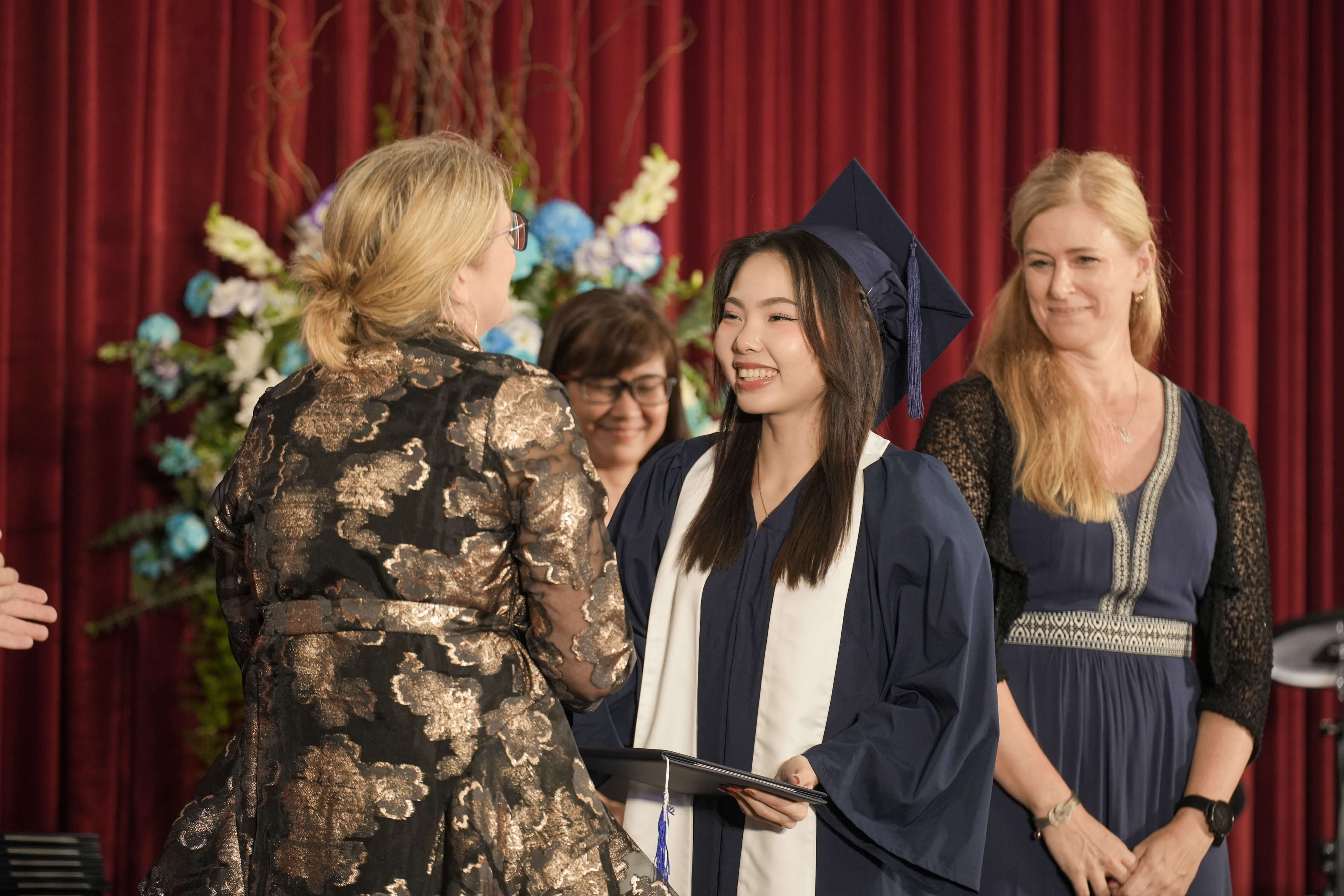 Another recent graduate, Nguyen 'Lily'  Khanh Binh, started her ISHCMC journey in grade 3. "What I appreciate most about ISHCMC is its sense of community. Because there are people from so many different backgrounds there is always a group for everyone", Lily says. Having received a perfect score of 7 in Psychology and 35 points overall, she plans to major in Sociology at Pepperdine University. Lily tells us that it was the experiences and opportunities in her Theater class that sparked her interest in the field, "it was all about making connections – something that reflects our society and the social issues we're dealing with. ISHCMC made me more curious and made me think about how we connect with each other".
The IB Diploma Programme also allowed Japanese student, Karen Oda, the opportunity to flourish. Joining in grade 9, Karen found life at ISHCMC to be incredibly rewarding. "Art was my favorite subject – it allowed me to express not only myself but my individual culture". Karen has been given an unconditional offer to the University of Adelaide, ranked in the Top 100 universities in the world, to study Nutrition. As she looks back on her education she says, "I am very grateful that ISHCMC gave me the opportunity to discover my passion".
A member of ISHCMC's swim team and long serving house captain, Drew Moreno explains, "there's always been a culture of care at ISHCMC and I think that's really important when you move to a new school. The school has changed so much since I arrived 11 years ago but its sense of community has stayed the same". Having achieved 37 total points and a 7 in his Environmental Systems & Societies subject, Drew has accepted an offer to Wheaton College where he will be furthering his passion for environmental sustainability. "ISHCMC allowed me to discover passions I didn't think I had and the teachers have always made it really easy to reach out to them", he said as he reflected on his time at school.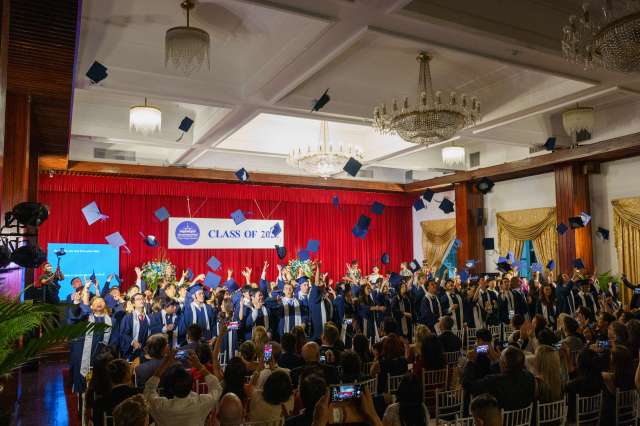 It's graduates like these that show just how critical it is that education goes beyond the traditional classroom. In an uncertain future the responsibility placed on education is more important than ever. It is the responsibility of schools to equip all learners with the tools they need to navigate life in the 21st century. While learning will always present us with challenges we know that the programmes at ISHCMC offer great opportunities whilst supporting our learners through their learning journeys.
ISHCMC, the first international school in Ho Chi Minh City and first to offer the full International Baccalaureate (IB) curriculum, recognises the important role education plays in allowing students to make choices in often complex and ambiguous environments. ISHCMC utilizes the flexibility of the International Baccalaureate programs to encourage an inclusive, broad and balanced approach to learning through inquiry, exploration of concepts, principled and caring citizenship, creative problem solving, collaboration, communication and connectivity.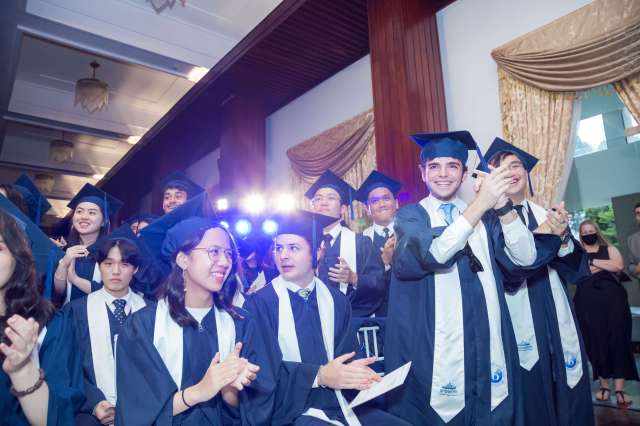 Through the Primary Years Programme, Middle Years Programme and Diploma Programme, students like Seoyeon, Junsoon, Lily, Karen and Drew develop the foundational skills that prepare them for excellence long after they leave school. The IB programmes provide an education that enables learners to make sense of the world around them resulting in internationally-minded people, equipping them with the skills and dispositions needed for taking responsible action for the future. Furthermore, the education at ISHCMC at all grades crosses disciplinary, cultural, national, and geographical boundaries.
Kim Green, ISHCMC's Head of School, explains "students are encouraged to learn the skills and attitudes necessary to have ownership and take responsibility for their learning and their lives". Ms. Green goes on to say that "through learning in a collaborative, constructive environment our students deepen their understanding and create new perspectives that prepare them for life beyond ISHCMC".
See more:
Top best international school in HCMC, Vietnam

Top international school in District 7 HCMC

Top international middle schools in Vietnam with high-quality education
The school wishes luck to every student in the class of 2022 and looks forward to seeing them realize their potential far into the future. As Ms. Green says, "once a Rhino, always a Rhino".