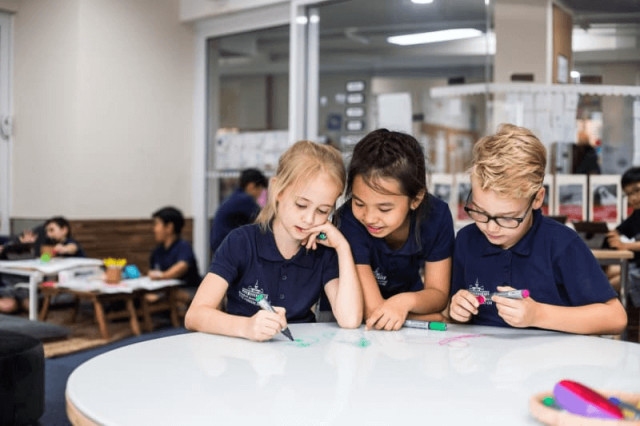 The International Baccalaureate (IB School) – What is it? Why is it good for my child? If it's so good, then why have I not heard about it before? 
For many parents, whose school experience may seem like a distant memory, making a decision about your child's education programme is rightly a daunting task. In fact, most parents are often never faced with this decision due to the nature of a national curriculum. As with a host of other decisions that must be made when moving countries, this decision can often feel like the most difficult. 
For over 40 years an International Baccalaureate (IB) education has helped future generations cross the boundaries that separate languages, countries and cultures. Today, the IB continues that tradition providing a continuum of international education that features four high quality programmes for students from 3-19 years old. 
The IB consists of three individual programmes. The Primary Years Programme (PYP), Middle Years Programme (MYP) and the Diploma Programme (DP). While each of these qualifications forms a pathway into the next, they can also be studied independently of one another. Consequently, you may find that some schools offer all three qualifications, while others only offer one or two. Any school wishing to offer one or more of the IB programs must first be authorized to become an IB World School through the International Baccalaureate organization. 
What makes the IB different from state-based national curriculums? 
1. Global Recognition & Outlook
The IB develops inquiring, knowledgeable and caring young people who help to create a better and more peaceful world through education that builds intercultural understanding and respect. One of the central aims of the IB is to promote intercultural understanding and respect, not as an alternative to a sense of cultural and national identity, but as an essential part of life in the 21st century.
The IB is taught to over 1,950,000 students in 5,400 schools across 159 countries.
2. Well-rounded Education
The IB programmes develop inquiring, knowledgeable and caring young people who are motivated to succeed, giving students distinct advantages by building their critical thinking skills, nurturing their curiosity and their ability to solve complex problems. A key advantage of the IB is that it allows students to hone in on their areas of strength and, through development, improve on areas of weakness. As such, students are exposed to a much larger breadth of subjects than most national curriculums – one of the reasons why the IB is considered so challenging. 
3. University Preparation
The IB Diploma is effectively designed to prepare learners for university, in that it teaches you skills and ways of learning that will set you up to do well at a tertiary education level. The heavy workload and the idea that students in the IB, 'learn to learn', mean that IB students are often well prepared for university life. 
For example, DP students were three times more likely than similar A level students to enroll in a top 20 higher educational institution (Duxbury et a., 2021). 
4. Curriculum Structure
A key difference between the IB and other state-based curricula is the curriculum structure. In the IB Diploma Programme, IB students must study one subject from the arts, sciences, humanities, mathematics, as well as English and a foreign language. On average, three of these subjects are taken at a "higher level", where students must show greater knowledge, understanding and skill. The other three subjects are taken at a "standard level". Students also complete a 100-hour subject on the theory of knowledge and write a 4000-word extended essay on a topic of their choice. As well as academic requirements students must participate in creative, sporting and service activities. 
For more information on the International Baccalaureate at ISHCMC, click here.
See more:
Top best international school in HCMC, Vietnam

Top international school in District 7 HCMC

Top international middle schools in Vietnam with high-quality education
Duxbury, V., Westlake, C., Joice, W., & Jones, E. (2021). International Baccalaureate students studying at UK higher education institutions: How do they perform in comparison with A level students? International Baccalaureate Organization