Recently, students from ISHCMC had a unique opportunity to attend The Crystal Ball, a business luncheon organized by the Canadian Chamber of Commerce in Vietnam, where they gained insights into what the future holds for businesses and individuals in the country. 
The event featured a panel of experts in finance, technology, politics, and other fields. The guest speakers included Mr. Alex Crane, Managing Director of Knight Frank, Mr. Binh Tran, Co-founder and General Partner of Ascend Vietnam Ventures, Mr. Ismael Pili, Head of Research at VinaCapital, Ms. Sarah Galeski, Counsel at Tilleke & Gibbins, Mr. Ralf Matthaes, Founder/Managing Director at Infocus Mekong Research (IFM), and Mr. Will Ross CFA, Chief Marketing and Distribution Officer at Dragon Capital Group Limited.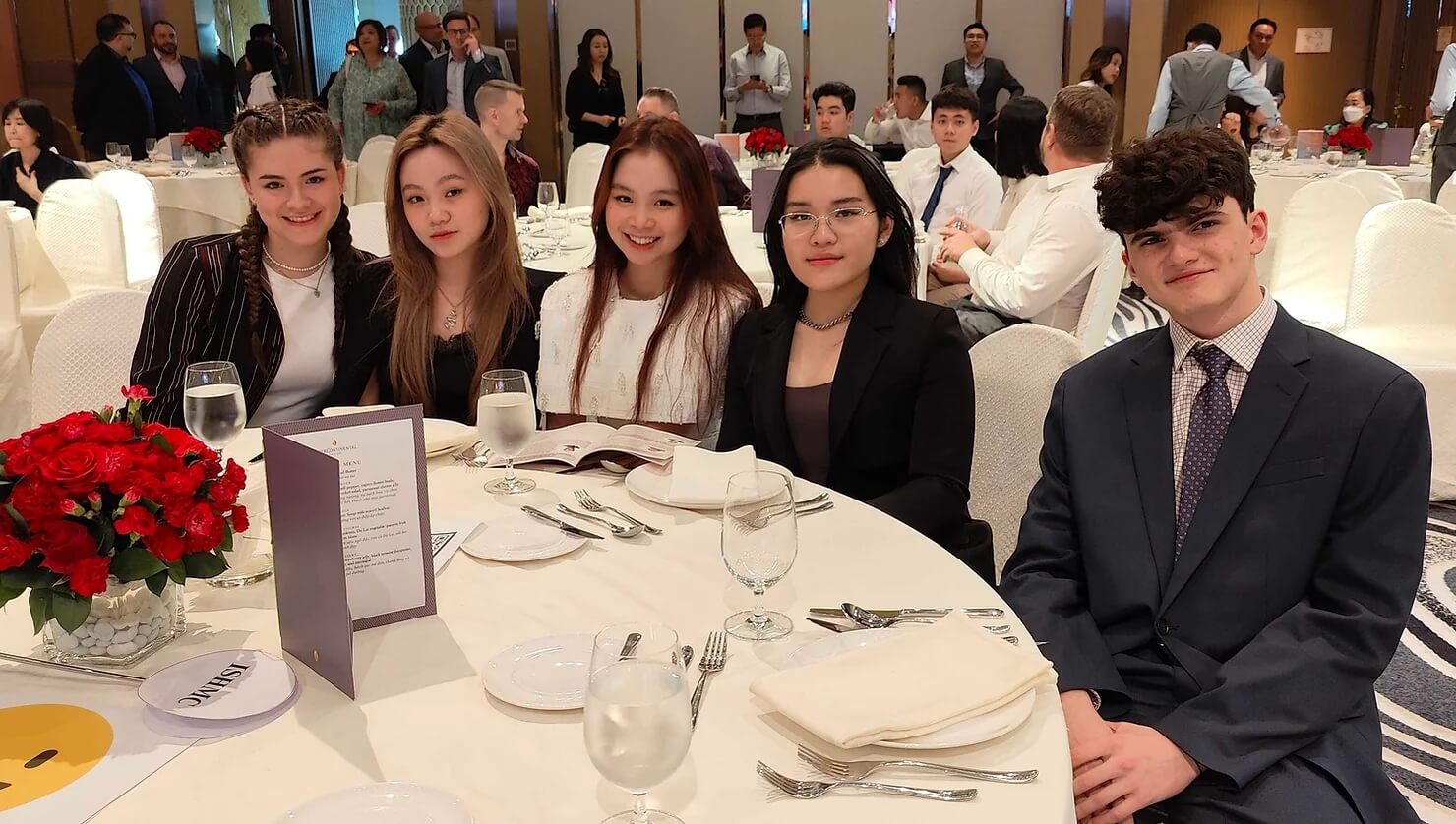 The event began with a warm welcome from Winnie Lam, one of the chamber's board members, who introduced the lineup of industry-leading experts in Vietnam. During the luncheon, the students had the chance to learn about a wide range of topics across various industries and fields. From the potential risks and opportunities that come with investing in different markets and the latest trends to the possible impacts of new technologies across industries and how the real estate landscape will affect business in the year ahead. The students also had the opportunity to ask their own questions and engage in discussions with the panelists. Questions from the students covered sustainability solutions and how they will integrate with business trends in the year ahead, as well as trade with South America and what opportunities might arise in 2023.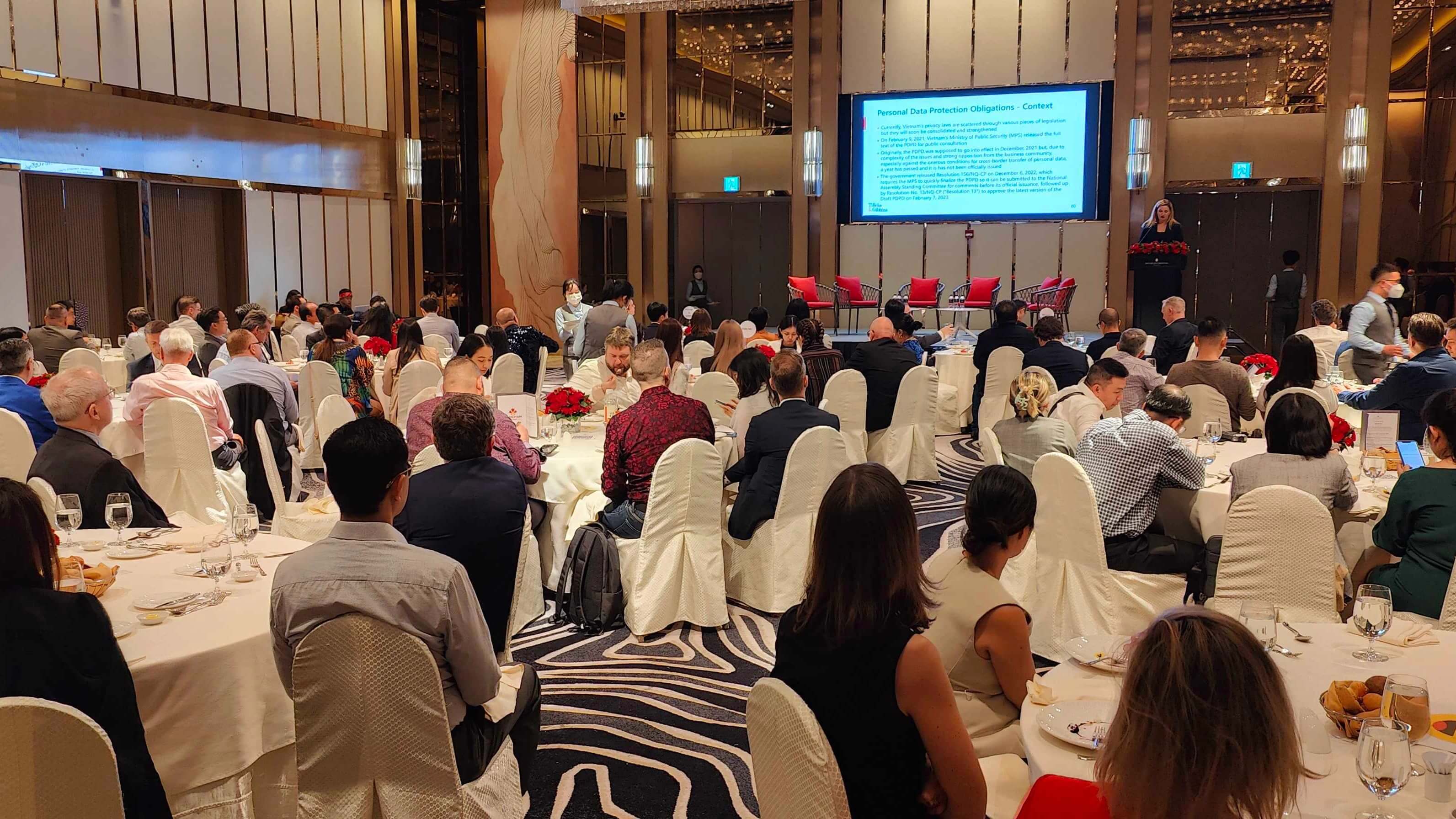 Dorothy, a student who attended the event, shared her thoughts on the experience,
"I'm very interested in the reality of sustainable businesses. Currently in Vietnam, it's very hard to implement these businesses as we're not particularly a developed country yet and wages are still rather low. Iimplementing something such as sustainability generally is very difficult."
She continued,
"Listening to industry leaders who have had extensive research on these matters, really gave me some great advice and insights. For example, I remember one of the speakers saying that it is more important for us to focus on genuine utility over aesthetic value, and I think that's very important for sustainable businesses now, especially in Vietnam."
Adrian, another student who attended the event said, 
"I really learned a lot from this experience. Hearing terms that we hear in class, being used by industry experts in very applicable situations, really helps you understand how they're used and applied, as well as how we may apply these concepts in our own lives."

For ISHCMC students, the Canadian Chamber of Commerce in Vietnam's business luncheon provided a valuable learning experience. It gave them the opportunity to learn about the latest trends and predictions in the business world, as well as engage in discussions and network with industry professionals. Attending events like these can help students gain a deeper understanding of the business world and develop the skills and knowledge they need to succeed in their future careers.